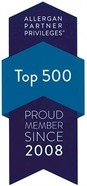 What are Injectable and Dermal Filler Treatments?
Injectables and dermal fillers are anti-aging treatments injected into the treatment area to reduce the appearance of fine lines and wrinkles, add volume to sagging skin, or tighten loose skin. Injectable and filler treatments are often used on the facial area to correct frown lines around the mouth, nose to mouth lines, crow's feet around the eyes, and wrinkles on the forehead. Our board-certified dermatologists will determine the correct anti-aging procedure based on the areas being treated and the severity of the wrinkles or sagging skin.
What Anti-Aging Treatments are Available in the Baltimore Area?
Maryland Dermatology Laser Skin & Vein offers the following injectable and filler wrinkle treatments to patients in Baltimore, Maryland and surrounding areas: