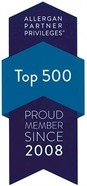 What are Injectable and Dermal Filler Treatments?
Injectables and dermal fillers are anti-aging treatments injected into the treatment area to reduce the appearance of fine lines and wrinkles, add volume to sagging skin, or tighten loose skin. Injectable and filler treatments are often used on the facial area to correct frown lines around the mouth, nose to mouth lines, crow's feet around the eyes, and wrinkles on the forehead. Our board-certified dermatologists will determine the correct anti-aging procedure based on the areas being treated and the severity of the wrinkles or sagging skin.
Types of Injectables
Some injectables such as Botox® and Dysport® use a toxin to relax facial muscles that cause wrinkles. Other injectable treatments contain naturally occurring filler substances such as hyaluronic acid to smooth fine lines and wrinkles or reduce the signs of aging. The fillers can also be used to add volume to certain areas of the face including the cheeks and lips.
Injectables We Offer
Maryland Dermatology Laser Skin & Vein offers the following injectable and filler wrinkle treatments to patients in Baltimore, Maryland and surrounding areas:
About The Procedure
Before your procedure, our physician will consult with you and examine your face to help determine the best approach for your treatment. This will be based on your personal areas of concern, preferences, and desired results. The injectables procedure may involve the application of local anesthetic prior to treatment. A fine needle syringe is used to apply the specific injectable, such as Botox or Restylane. The duration of results varies for each specific product and for each patient. Depending on the injectable used, results typically last three to six months. Sometimes, results may last longer, up to one year.